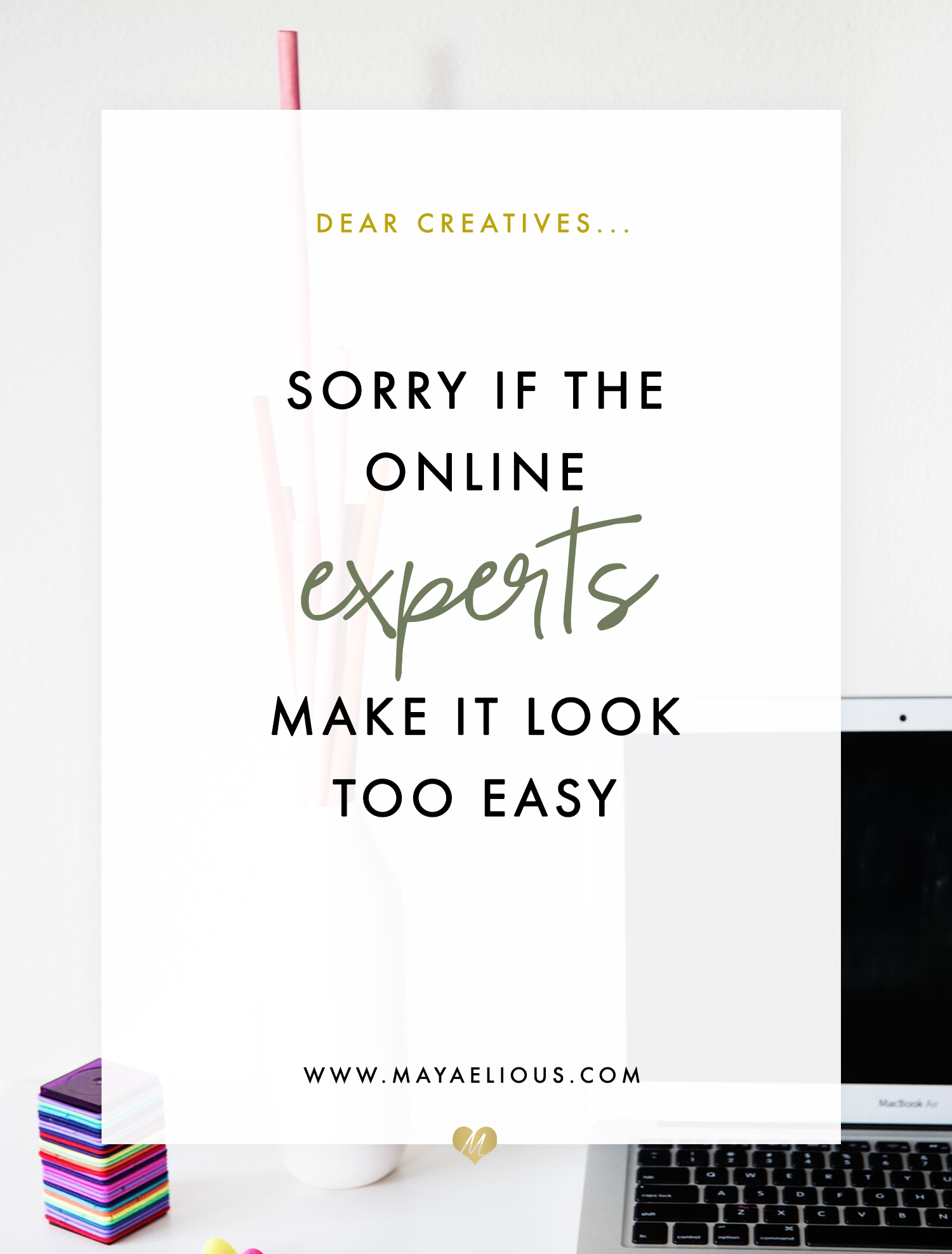 Dear creative,
The good news is, running a creative online business doesn't require much physical work. Whether you're painting, designing, illustrating, or writing, these are generally tasks you can do anywhere from the comfort of your home to a nearby Starbucks. The bad news is, it seems easy because it's hard for people to measure the emotional energy that can leave a creative mentally drained, exhausted and worn out by the end of a long day.
Being successful is simple but not easy, and there lies the confusion.
You've seen the income reports, traffic reports and launch successes from VARIOUS online creative entrepreneurs seen as experts, myself included.
I know the ones who are deeply passionate about what they do don't share their success for show. It's not about "hey look what I can do" it's really about "look what YOU can do because I've done it."
We all start from the bottom. We all have gone through some form of adversity. So sharing a success story is about, "if I can honestly do this after ALL I've been through, so can anyone else."
If anyone knows how hard being an online entrepreneur is, it's the ones you consider experts who started before Twitter, Instagram, Pinterest and Periscope could propel our brands.
As a creative and influencer, so much heart and passion goes into what we do.
We burn out so you don't have to.
We do trial and error so you don't have to.
We take the BIGGEST risks so you don't have to.
When you hear experts say "skip the trial and error" it's not just a line we feed people. It's because we know.
We experience trial and error every single day to give you the best content. We create with a glimmer of hope that people will actually like what we serve. We test it out on an audience who trusts us. We experiment. We create with passion but sometimes execute with uncertainty. We hope people don't throw virtual tomatoes at us. And when it works? It's a sigh of relief.
And depending how daunting the experience was, we'll talk about it (a lot) then package it up and sell it.
When you hit a certain level of "success" people will expect specific things from you. The trials become riskier, the room for error becomes smaller, and more people start paying attention with expectations from you. You've now set a precedent in which you're not expected to go beneath.
You're not allowed to talk about your success or else you're bragging.
You're not allowed to be transparent or else it's not transparent enough.
You're expected to cater to everyone.  (Hint: You only need to serve who you feel like serving.)
And the worst part of doing trial and error is when you bust your ass just for someone to rip it off. Life of a creative. Not so easy.
It takes a lot for us to dig in our past for others to feel more secure. So we affirm that security by letting you see the good parts. The parts that don't include anxiety. The parts that don't include depression. Because we want to see you pushing through.
I'm personally sorry if you've ever gotten the impression from me that the life of a creative is easy. It's not. But it IS simple. And I do my best to simplify it because I want you to know that it is attainable. I don't want to scare you by sharing more struggle stories than success stories.
I'm not gonna hit you with overkill about the bad parts because it's still so good. The "bad" parts become less and less. The "bad" parts are worth it.
The truth is, I'm scared every single day. A wave of fear rushes over me, but I push anyway. And it's the most amazing fear I could ever experience because it's worth something.
I get it, you guys. I get it on the highest level. I started as an 18 year old, first generation American girl from a West African background. I wasn't looked at as the "oh so powerful millennial". Nobody was checking for me to succeed as a creative. It was just go to school, and make your African parents proud.
Everyone has their adversity no matter what it is.
Your struggle may be single mom with 2 kids.
Your struggle may be $30,000 in debt.
My struggle was the "only exceptional people can be successful without a degree" speech. Over. And over. And over. Do you know what that does to someone's psyche? How many different ways can someone be told they're not good enough?
We. All. Struggle. Do the work anyway. Simple.
Not easy. But simple.
You don't do it because it's EASY, you do it because it's fulfilling. It's worth any adversity you could ever endure.
7 years of fear.
7 years of doubt.
7 years of mental exhaustion.
And as you go on, you just tack on another year. It does get better, though.
We're "experts", but we're human. We're creatives. We're doing the best we can. And no matter how easy we make it seem, we of all people know that it's not.
Keep pushing, anyway.
XOXO,
The expert creative who is just as scared as you are.