Content Strategy Starter Pack
The top 5 essential resources you need to jumpstart your content creation and marketing efforts for your brand or online business.
What's inside?
Guides, templates, workbooks, and checklists to get you on the right track!
1.
Narrow Your Niche Workbook
The Narrow Your Niche workbook is meant to help you hone in on your expert niche topic. The best way to build your brand as an expert is by being clear on how you serve your audience specifically. For example, instead of being a fitness expert, you may want to be seen as a Sports Performance Coach for basketball players. The more specific you are, the easier it is to stand out in a saturated industry.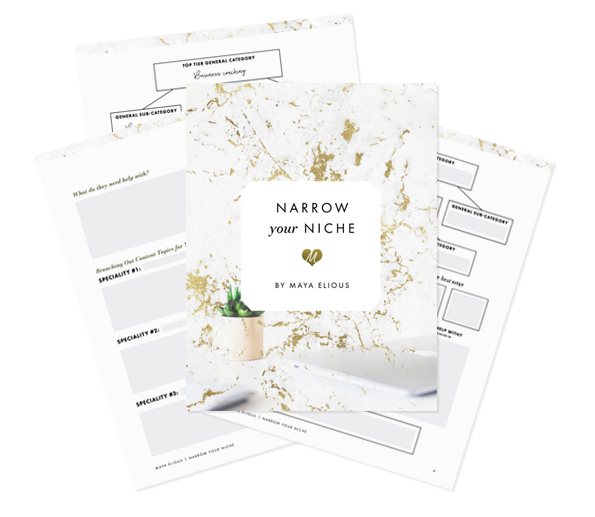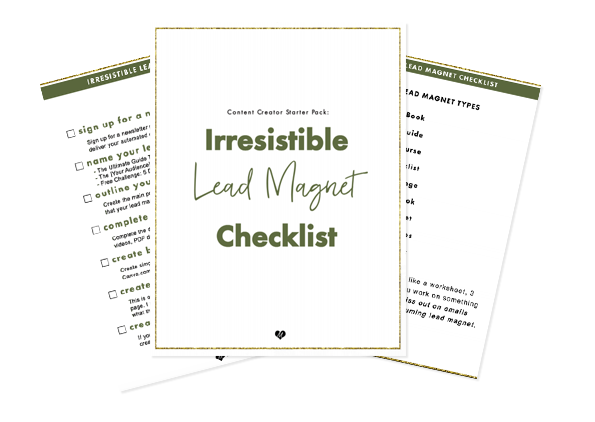 2.
Irresistible Lead Magnet Checklist
Once you're clear on who you serve and how you can best serve them, you want to build an email list of people who could use your knowledge through your free and premium content. What's something quick and digestible they could get from you in exchange for an email? The Irresistible Lead Magnet Checklist PDF will help you create your next lead magnet!
3.
Welcome Email Series T
emplat
e
After people begin getting familiar with you and your brand, they'll ask how they can join your email list. You always want to have a general newsletter sign up page where they can join your list. You have access to the Welcome Email Series template document that will help you write a 3-email welcome series to your new subscribers. This is a chance to introduce yourself and lead them where you want them to go.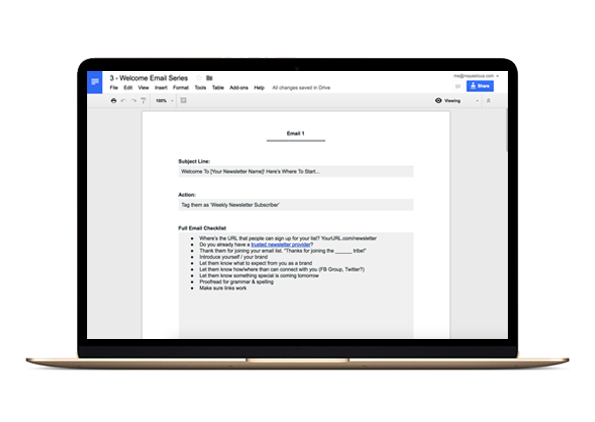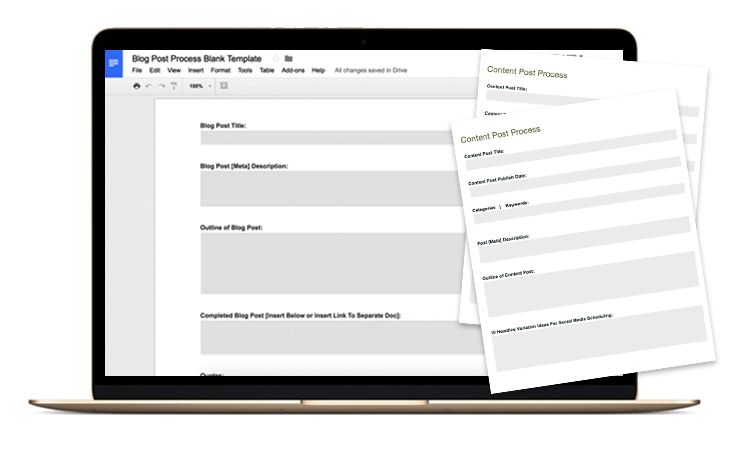 4.
Blog Post Content
Grab your blog post template + checklist, and plan your next 5 blog posts. Five posts are perfect for launch, especially if they meet the guidelines of the checklist provided to you.
5.
Quarterly Content Plan
Now that you have the right amount of content to get started, plan out your content for the rest of (or the upcoming) quarter. Planning out in quarters can be most effective because your ideas and goals may change after 90 days or when you approach the end of the quarter.
Ready to stop turning you wheels?
Grab your guides, templates, workbooks, and checklists to jumpstart your content creation efforts!
"All of Maya's content creation resources are AMAZING. This starter pack is SOOO good that I can't believe it's free! I would have killed for that pack when was just starting out!"
Caitlin Bacher – Social Media Strategist, CaitlinBacher.com
About The Creator
Hey, there! I'm Maya Elious, the content curator behind MayaElious.com where I teach creatives how to strategize, organize, and monetize their digital content.
Creating content around my expertise is how I built my authority and business into a profitable empire. Only thing is, I was doing it so much that I started to burn out. The money was good, but my time freedom wasn't because I didn't have documented processes. Without a streamlined system, I was wasting unnecessary time by starting everything from scratch. Now I've been able to build my team, serve my audience through multiple platforms, grow my list, and make money without feeling burnt out by the  end of the day. I'm passionate about showing content creators how to grow and scale their online business with content creation. At the end of the day, my goal is to to help you profit from your purpose like I've done for the past 8 years. I'd love to be a part of your journey!
Ready to stop spinning you wheels?
Grab your guides, templates, workbooks, and checklists to jumpstart your content creation efforts!