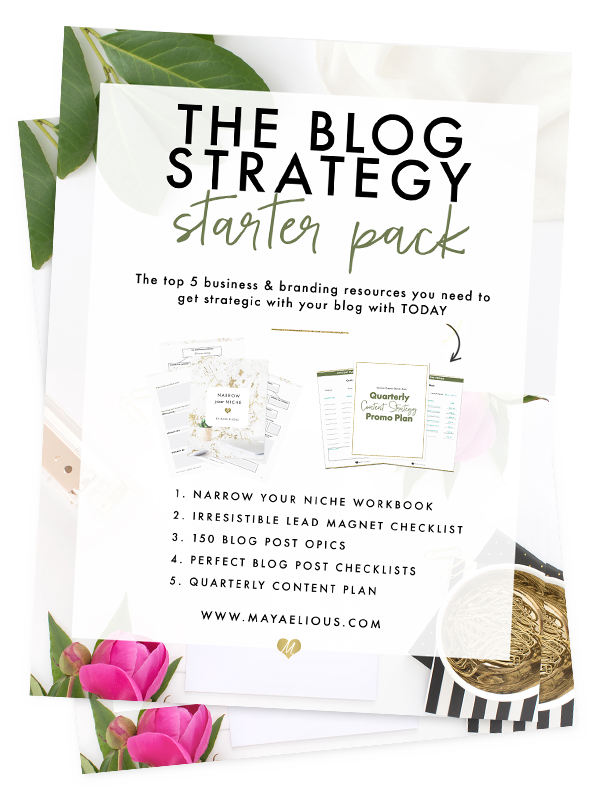 The Blog Strategy
Starter Pack
The top 5 FREE business & branding resources you need to get strategic with your blog content TODAY.
Stop Spinning Your Wheels
The Blog Strategy Starter Pack will help you:

 Clarify your expertise and attract the right audience
 Plan your freebies to help you grow your list
Connect with your readers & turn them into loyal fans
Never have to guess what to publish next
 Optimize your blogging efforts
 Maximize your Impact with PROVEN Strategies
All Of The Strategy Without Any Of The Guesswork
Easy-to-use guides, workbooks, and checklists to help you establish your expertise and make an impact with your blog.
1.
Narrow Your Niche Workbook
The Narrow Your Niche workbook is meant to help you hone in on your expert niche topic. The best way to build your brand as an expert is by being clear on how you serve your audience specifically. For example, instead of being a fitness expert, you may want to be seen as a Sports Performance Coach for basketball players. The more specific you are, the easier it is to stand out in a saturated industry.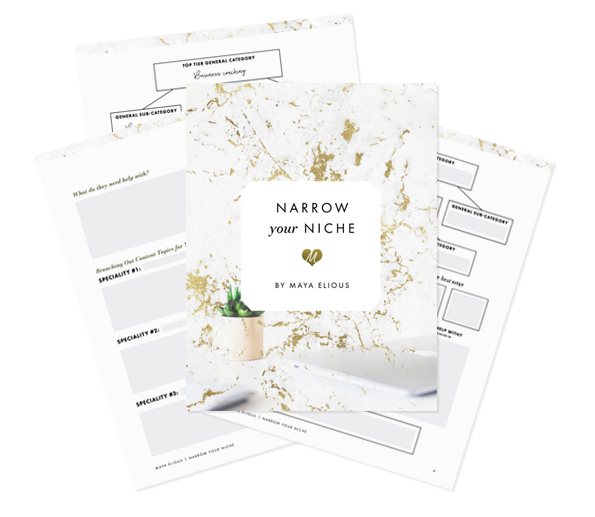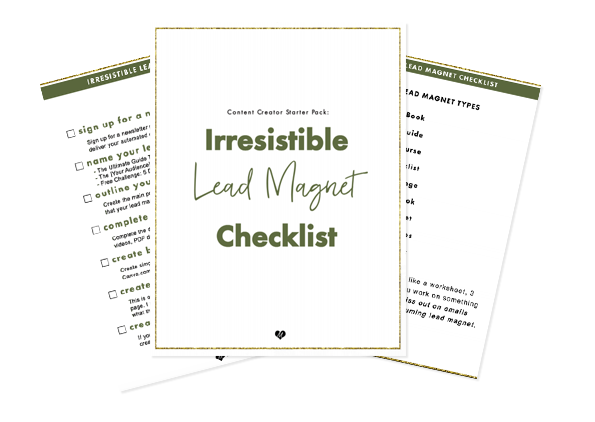 2.
Irresistible Lead Magnet Checklist
Once you're clear on who you serve and how you can best serve them, you want to build an email list of people who could use your knowledge through your free and premium content. What's something quick and digestible they could get from you in exchange for an email? The Irresistible Lead Magnet Checklist PDF will help you create your next lead magnet!
3.
150 Blog Post Topics
Exclusive content from my paid membership Content Prep Academy*** Never come up with a blog post idea from scratch again. My team and I came up with 150 blog post ideas for you should you could be covered for the entire year! All you have to do is write out the main points and hit publish.
.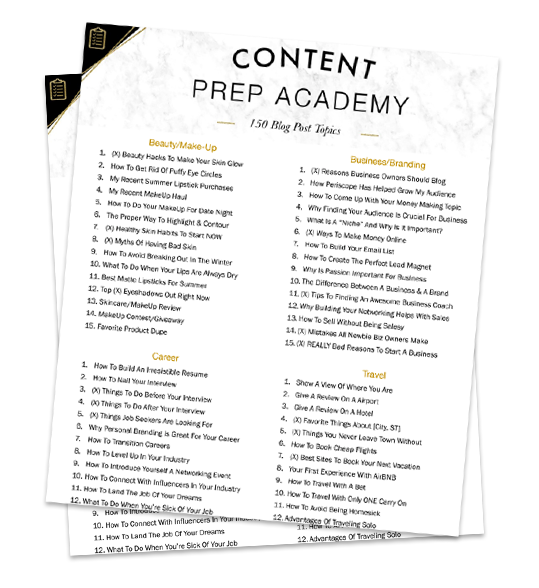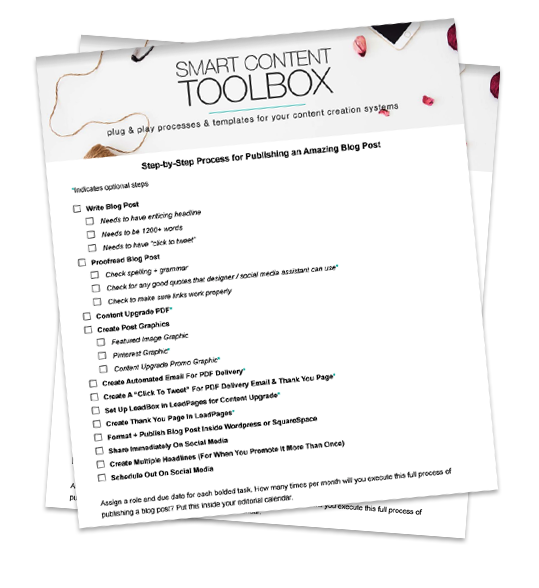 4.
Perfect Blog Post Checklist
Exclusive content from my top-seller Smart Content Toolbox***  Grab your blog checklists to make sure you meet the guidelines of writing, editing, and publishing the perfect blog post. I share my exact step-by-step process + the graphics I create for all of my high-converting blog posts!
5.
Quarterly Content Plan
Now that you have the right amount of content to get started, plan out your content for the rest of (or the upcoming) quarter. Planning out in quarters can be most effective because your ideas and goals may change after 90 days or when you approach the end of the quarter.
Get more strategic with your blog today!
The START NOW framework complete with guides, workbooks, and checklists to help you clarify your expertise and implement today!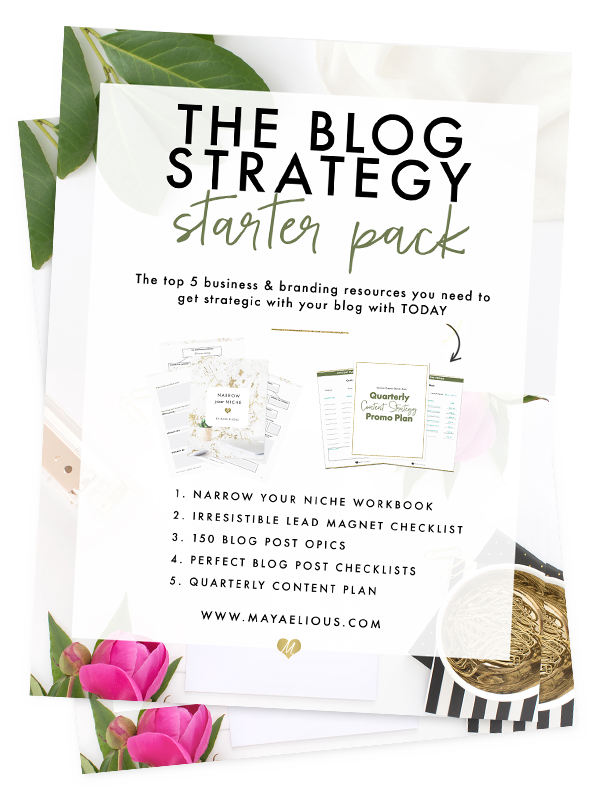 About The Creator

Maya Elious is a personal branding strategist that teaches experts how to create curriculum based content to grow & monetize their online brand.
She's helped hundreds of students and clients launch digital content platforms like blogs, challenges, masterclasses, webinars, and courses so they could establish and monetize their expertise in the online world.
As first-generation American who dropped out of college to break free from the traditional mold, she believes in the power of pursuing your purpose despite the nay-sayers. She enjoys encouraging women to use their voice, and share their message in the form of online content in order to reach more people. She does this by speaking, writing, coaching, and hosting workshops about branding, purpose, and content strategy.
When she's not helping her clients build their purpose empire, she can be found traveling, snapping, or Netflixing.
Ready to make money with your blog?
Get your FREE Blog Strategy Starter Pack to start TODAY!