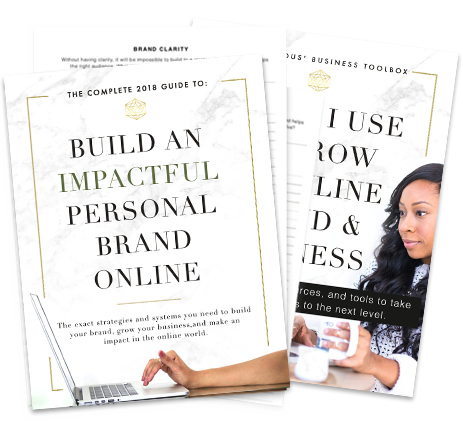 The Complete 2018 Guide To Build An Impactful Personal Brand Online
The exact strategies and systems you need to build your brand, grow your business, and make an impact in the online world.
Piecing your brand together through vague "tips" & "tricks" found on Google is not a real strategy.
Growing a brand online in 2018 is not the same as it was before. Learn the modern strategies to maximize your impact and increase your income.
9 Things You Need To Build An Impactful & Profitable Online Brand & Business
These 9 actionable steps will get you noticed and paid in a saturated industry.
1. Brand Clarity
Getting full clarity on your brand message & values. Who do you want to serve and how you will serve them?
2. Lead Generation
Give your audience something of value in exchange for an email address to immediately build trust AND generate new leads.
3. Social Media Strategy
What platforms do you need to be on in order to share your story with your audience?
4. Content Strategy
What platforms do you need to be on in order to establish your authority and maximize your reach?
5. Website Strategy
Your website is a place for you to house everything that positions you as an expert. It's a place where people can go to learn about why you matter AND the place people should go to pay you.
6. Visibility Strategy
Whether you're new or seasoned to the online space, getting in front of your audience is something you need to do consistently to remain relevant. How will you be seen?
7. Signature Product
You need something to sell in order to be an actual business. How can you package up your message into a product that you can launch?
8. Product Suite
Once you've built a proven product and a trusted audience, you need to brainstorm ways that you can diversify your income.
9. Business Systems
In order for all of your strategies to work together in a streamlined fashion, you need the right software to uphold all of your business growth systems.
Plan out the 2018 success of your personal brand!
We've outlined everything you need to build an impactful and profitable personal brand online. It's the exact step-by-step process we use when working with clients who want to see results! The success of your business will be built on proven systems and strategies, not vague "tips & tricks". Grab this guide to see the exact systems and strategies you need to implement today!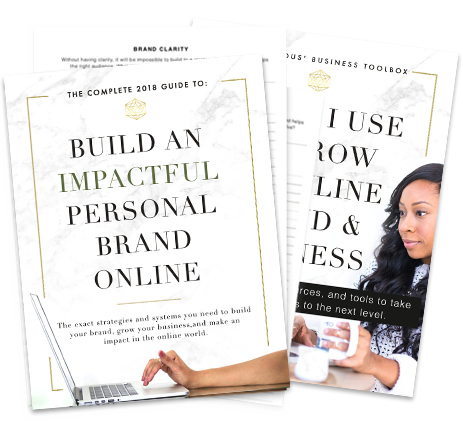 About The Creator

Maya Elious is a personal branding strategist that teaches experts how to create curriculum based content to grow & monetize their online brand.
She's helped hundreds of students and clients launch digital content platforms like blogs, challenges, masterclasses, webinars, and courses so they could establish and monetize their expertise in the online world.
As first-generation American who dropped out of college to break free from the traditional mold, she believes in the power of pursuing your purpose despite the nay-sayers. She enjoys encouraging women to use their voice, and share their message in the form of online content in order to reach more people. She does this by speaking, writing, coaching, and hosting workshops about branding, purpose, and content strategy.
When she's not helping her clients build their purpose empire, she can be found traveling, snapping, or Netflixing.