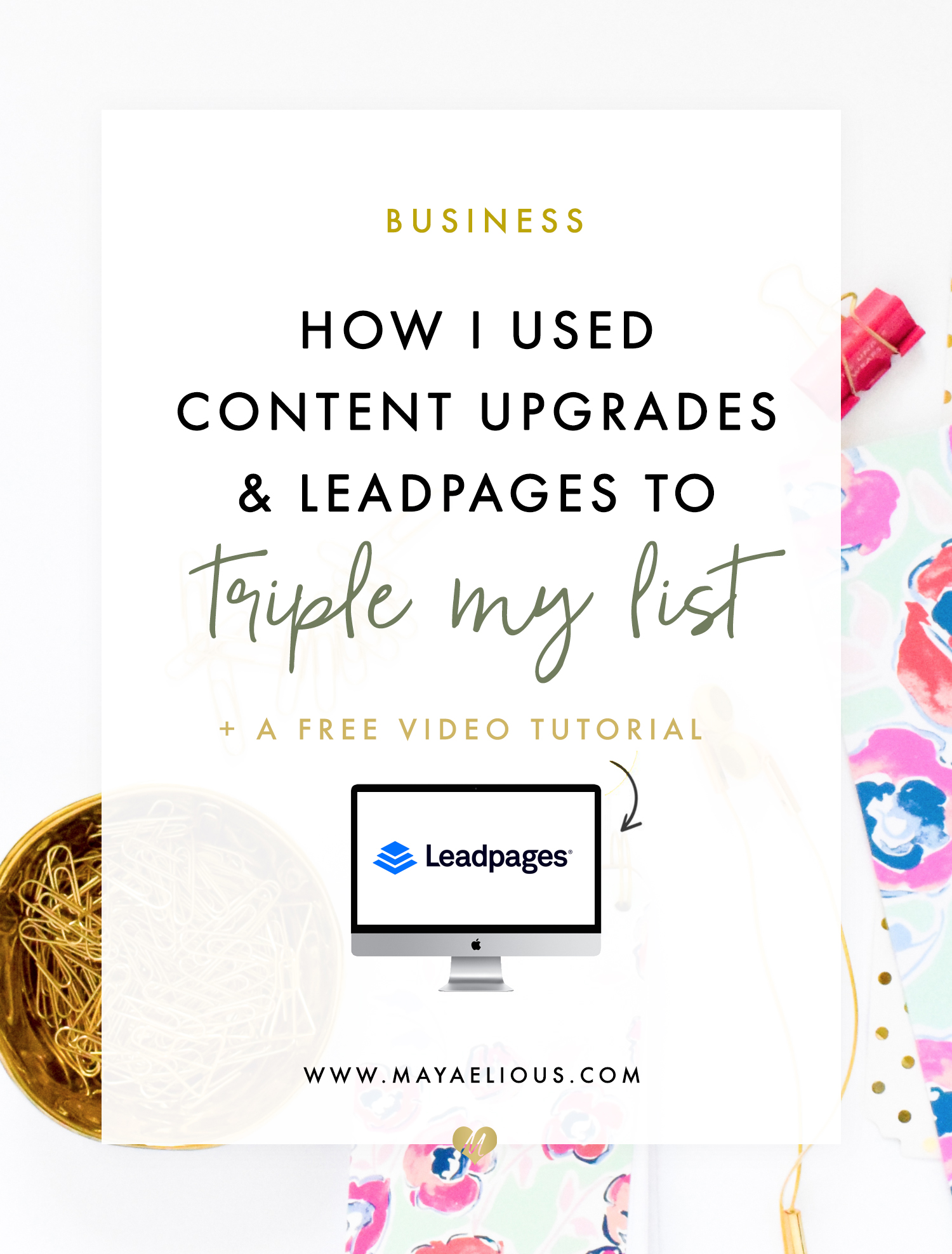 As I began my transition from full-time designer to coaching, I knew I needed to start generating leads for people that would be interested in my new services. In marketing, lead generation is when you generate consumer interest or inquiries for new or existing products/services. This is why "giving freebies in exchange for an email" is commonly described as a lead magnet. You offer something that can attract someone enough to offer up their email address. This is usually the beginning of your email marketing strategy which I'll talk a little more about next week.
Generating leads is pretty simple, but it can take a little bit of time. When I heard about how easy it was to make landing pages and pop-up email boxes with LeadPages, I signed up when they were running a special. Back when I was using MailChimp, I didn't want to figure out how to copy and paste in their forms and make it look pretty at the same time. With LeadPages, it was easy to customize the images and colors for my landing pages and lead boxes. Click here to see an example of how it works. I suggest content creators and bloggers use a platform like ConvertKit, a way more effective newsletter and email marketing suite to have the best results using LeadPages. It takes me about 5 minutes to set up a lead box and start capturing emails.
I'm going to share with you the top 3 most common ways to generate leads with LeadPages (#3 is my favorite):
1. Offer something for free with the click of a button
I love this method because people want to get their freebie in the quickest way possible. They don't to have to jump through hoops and fill out a multi-question form. My very first lead magnet was a free download to my eBook, 5 Ingredients To Making Your Website More Profitable. I created a quick graphic in Photoshop for my sidebar, but a simple "Get My Free Book" call to action button on the home page is just as effective. I know that people like being able to see what they're getting if it were tangible so I usually create mockups. If you're familiar with Photoshop, I suggest using Graphic Burger to download free mockup templates.
***Opting in to this form does not lead anywhere***
Here's a quick tutorial on how to set this up.
2. Create a landing page for your free something
This is a smart method because not everyone is going to land on your site from the home page. My current lead magnet is a free 5-Day email course on branding. I created a landing page to put the link in my social media bios. I'm driving traffic directly to my opt-in because it's much easier than saying "Go to my website and click on the green button on the home page". Again, people like simplicity, and honestly, they're quite bad at following directions. Just lead people where you want them to go. I made this landing page in about 25 minutes with LeadPages. I chose one of the free templates, created relevant graphics, plugged in some copy, and voila! Landing page completed. LeadPages is also cool if you have a self-hosted WordPress site because they have a plugin where you can use your domain to redirect to a landing page you create. For example, mayaelious.com/personal-branding-jumpstart leads to mayaelious.leadpages.co/personal-branding-jumpstart. It makes me look super #profess and #legit.
Here's a tutorial on how to create a landing page in 10 minutes
3. Integrate Content Upgrades
I had no idea what a content upgrade was until I started working with Mariah Coz of Femtreprneur.co. The first two methods I mentioned for building your list are great ways to get a large wave of people onto your list. This method, content upgrades, is a way to get a steady stream of people on your list.
Basically a content upgrade is just an "upgraded" version of your blog post. It's offering something for free that is SPECIFIC to your post's topic. Mariah does these for everyone of her blog post, but here's the super amazing advice she gave me:
Figure out your top 5 most read posts, and add content upgrades there first.
I hopped on over to Google Analytics and looked at my top posts. You can do this by logging into your analytics dashboard, scrolling down to "behavior" then clicking "overview".
One of my top posts have been "How To Introduce Yourself At A Networking Event" so I made a PDF worksheet with some important things to know before attending a networking event. Now every time someone visits that post, 45% of those readers (my conversion rate) give me their email address. That's 45% more email addresses I wouldn't have had without that advice.
I felt like I was finally my LeadPages investment, and the fact that you can have unlimited Leadboxes, to its fullest potential. Every time I capture a new email, that's a new potential customer when I'm ready to launch a product.
Using these 3 strategies, I've been able to get nearly 1,000 additional people on my list within a few weeks.

Building my email list has been a HUGE part of building my brand because I have direct access to a loyal audience. My list played a big part in me being able to make $2,000 on a Sunday afternoon. I'll tell you about that next week. In the meantime, sign up for MailChimp, register an account with LeadPages, and start thinking of some ideas to generate leads.
What has been your highest converting lead magnet? What are you thinking about offering next as a lead magnet?
My LeadPages Tutorial: