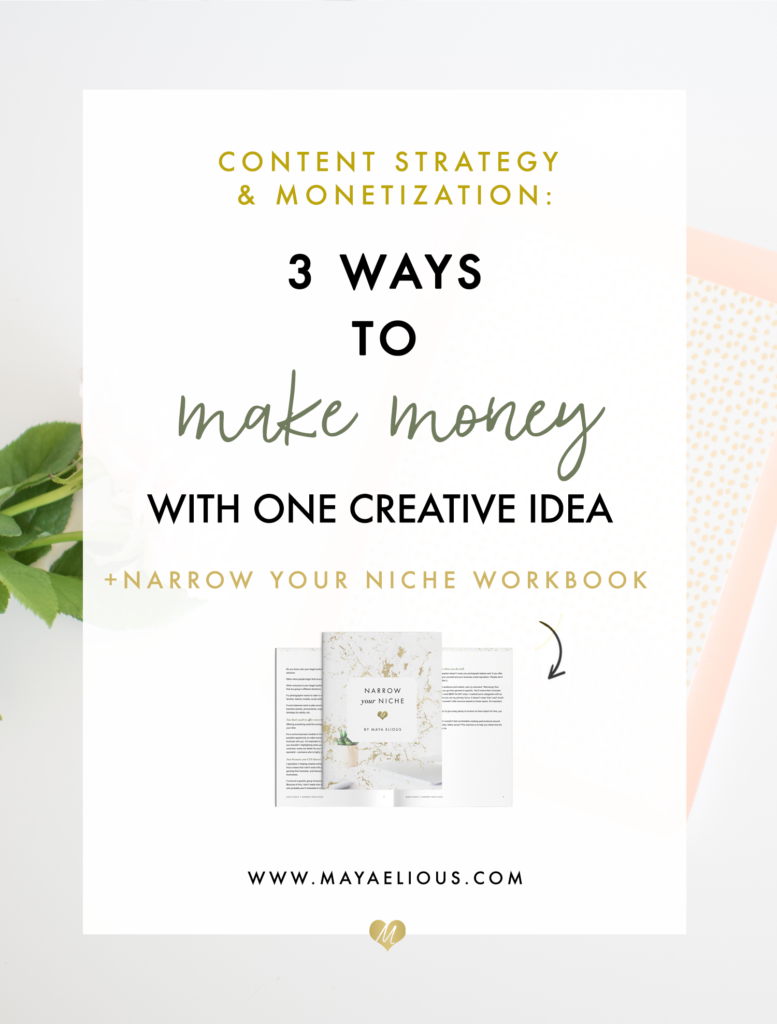 In business, my goal is to always work smarter, not harder. I'm not trying to ride the content creation hamster wheel for every dollar I make so when I get a good idea, I squeeze out every dollar I possibly can. I'm talking about diversifying my income in as many ways as possible from just one creative idea.
But here's the thing, they have to be GOOD ideas. They have to be focused ideas. They have to be ideas so good that I can make money from them in more than one way.
I want to profit from every idea as much as possible. And you should want the same thing. Because who wants to constantly grind for every single dollar? Work smarter, not harder my friends.
Today I'm gonna walk you through how I get ideas that I know I can monetize in more than one way. You ready?
Step 1: Discover The Idea
I know, so basic right? Before you can make any money from your ideas you have to actually have one. But this step is crucial. Not just because it gives you an idea to work with, but because knowing HOW you get your best ideas is crucial to having and information-based business. When you know how your idea wheels get turning, you can put yourself in situations that will encourage the flow of ideas. I know many of you are all about getting in "the zone". Life of a creative, amiright?
Here's how I get ideas I can make money from in 3 different ways:
I'm a talker. I work through things best when I talk them out. (Just ask my team. Lol). So, it makes sense that I discover my best ideas when I have conversations with people who fit my target audience. And lucky for me, I get to have more conversations with content creators than I realize. Obviously if you don't have a team it helps to have a mastermind or group of creative friends. You can find some creative friends in my free Facebook group here.
Usually, these genuine conversations with content creators end up being so valuable. Regardless of their topic of expertise, whether in fitness, faith, finances, business, or branding, they always end up sharing their struggles. As content creators, we should want nothing more than to help our audience find a solution to their problems. When you can identify the struggle, you immediately think of solutions, thus; a flow of ideas.
Need help coming up with a focused idea? Download the Narrow Your Niche workbook!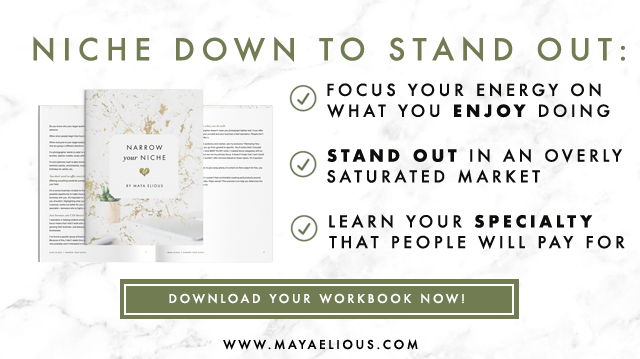 A few months ago, I was having a conversation with my friend who's a lifestyle leadership coach. He was struggling to gather and streamline content for an online workshop he wanted to host. I was like "all you have to do is _______, ______, _______, and _______." The ideas, advice, and strategy just came to me so naturally. And this happens almost everytime I have these kinds of conversations. (See what happens when your work is aligned to your purpose. It starts to fuels itself.)
Step 2: Validate The Idea
Let's be real, not every idea you get is gonna be really good or worth your time. So you have to make sure that you test your idea.
I validated my idea by I breaking down everything my friend needed to do to plan out his masterclass ( which was his first online product), and seeing how my explanation helped everything click for him. He finally got his masterclass together after the process I'd given him. I figure that if he was struggling with this, as smart as he is, then surely other content creators were struggling with the same thing.
So I did what I do best and I wrote down the whole process and turned into a blog post, and created a workbook to go along with it (that I offered for money), which turned into an in person workshop in five big cities, which became a virtual masterclass. Three products. One idea.
I know you guys wonder how to monetize your knowledge and I think it's because you have a hard time believing that people will pay you for what you know. The fact is that you know your stuff better than your audience. It comes so naturally to you that you forget it's not so natural to others. You have more experience and expertise in your topic, and your audience wants to get to where you are. People seek advice from you because you know how to explain something that's complex to them in a simple way.
Step 3: Monetize Your Idea
Ok. So how did I monetize the idea in three different ways?
The $27 Workbook – Remember that workbook I told you I created to offer with my blog post, well it became The Product Planner.
—How I made money from it: I shared the blog post and the main points of the workbook on other content platforms like Snapchat, Periscope, and, of course, to my email list. The sales rolled in.
The Live Workshop – I used the content in the blog post and workbook to build a mini curriculum.
—How I made money from it: Before I even put a formal presentation together about the curriculum I had developed, I decided I wanted to teach it in person. So I hosted an in-person workshop that I charged $197 for in New York City (and 4 other major cities).
The Online Masterclass – After teaching it in-person, I knew I had to teach it online for all those people that wanted to learn it, but couldn't make it teach in person. So I created slides based on the details in the blog post and workbook and added it to my Teachable courses page. (I also gave this as a bonus to everyone who attended live workshop.)
How I made money from it: I put the class online so that anyone could buy it and have lifetime access to it.
I turned my one idea into a free blog post, a $27 workbook, a $200 live workshop, and a $197 virtual masterclass. I made about $5,500 that summer from coming up with that idea.
> Want more Ideas on how to make money in your online business? See: 7 Ways To Make Money With Your Brand <
What's something you see your audience consistently struggling with? Have you given away free content on the topic through a blog post, YouTube video or podcast? Did your free material get a positive response from your audience? How can you deliver that same content in different ways and at different price points that add more?
I love going back to the basics of narrowing my niche to come up with great ideas. Grab my free "Narrow Your Niche" workbook to start generating your own creative ideas now!