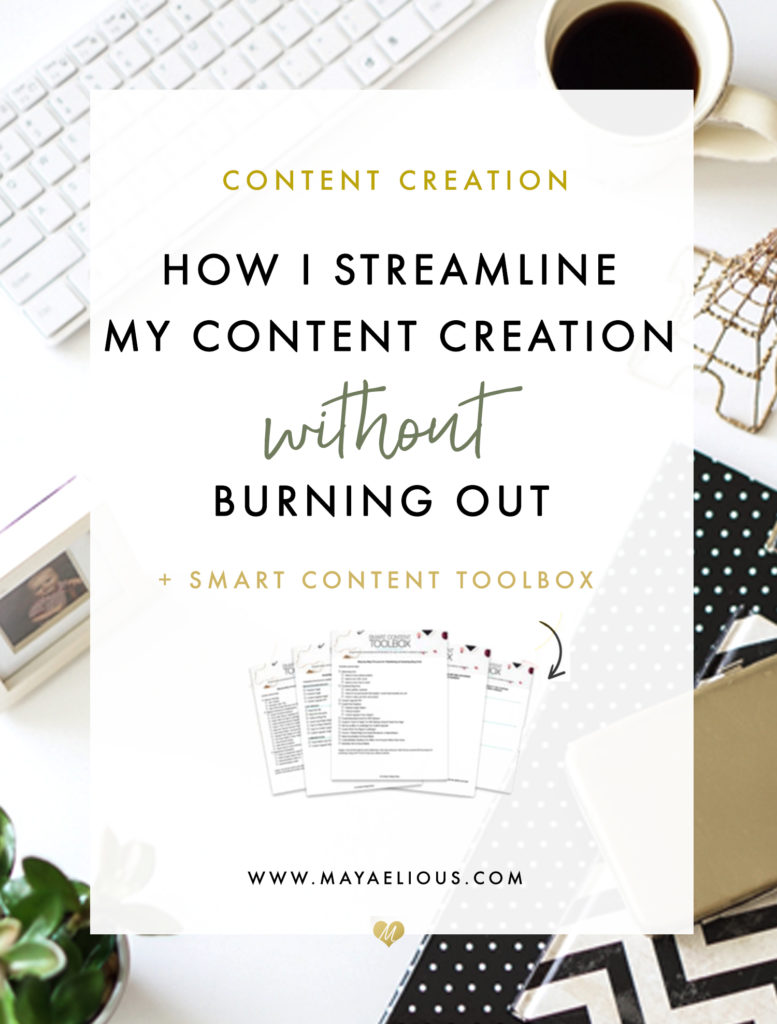 In my last post, I talked about the different seasons of business and how to navigate the transition from season to season. In this post, I'll show you how I organize myself to accomplish all that I do.
After going through the "drive" season and peaking my income goals (woohoo!!), things became chaotic for me. I had so much content and new people joining my team, but everything was simply a mess. Everything looked smooth on the outside, but behind the scenes, there was a lot of mental chaos. So, for the past three months, I've taken a step back to work on my business.
I jokingly say that I have digital OCD, but having a folder for every category on my computer or Dropbox is important to me. It helps me run my business in a simpler way. The more organized I am, the less time I spend figuring out where things are and what I have to do next. These processes and systems allow my business to be efficient even when I'm not actively working.
Here is what business folder in Dropbox looks like:
Business Folder
Brand Elements (Photos, Style Guide, etc)
Content + Products (Marketing & Sales)
Legal Documents (Policies, Contracts, etc)
Finances/Accounting (Tax Documents, Income Projections, etc)
Internal Communication (Team Members, Assistant Onboarding, Contracts, SOPS, etc)
Miscellaneous (Random Inspo, Stock Photos, etc)
I have to account for all of these areas in my business. While there are business coaches that cover specific aspects from product creation to accounting to legal advice for these categories, I specifically offer coaching on branding + content.
Your brand should remain consistent as consistency is what builds recognition. Of course, you can update it and evolve quarterly or every six months to stay on top of trends, but if it is timeless (like it should be), you'll only make small tweaks when you make updates. The better I got at branding, the less I had to change during updates.
Read: The awkward stages of a brand redesign
You branding elements should include things like:
Brand Elements
Your logo
Most recent headshots
Your style guide
Your bio
Media kit
Portfolio (speaking, media/press, testimonials)
Templates

PDF Header
Newsletter Header
Social Media Quote Graphic
Favicon
These are the overarching elements of the Maya Elious brand. My Brand Elements folder makes it easy for my administrative assistant to access files she can use when people requests something from me. My design assistant also uses the visual parts of my branding to create promo graphics with little direction from me. With an organized folder, they know exactly which logo, bio, headshot, colors, etc. to use. When something in this folder becomes outdated, I put it in an 'Archived' folder, so it doesn't get confused with the most updated version. I personally archive my old designs and content because I like to see how I've grown.
And now,  for my content and products, my money-makers. 🙂 I wouldn't make money with these things without everything else being organized and in order. I mean, I might, but they would eventually become a burden if other parts of my business are in chaos. Here is how I keep my money-makers organized:
Content +  Products
Blog Posts
Challenges
Coaching
Conferences
Courses
eBooks
Email Courses
Masterclasses
Webinars (Free Virtual Workshops)
Youtube Videos
Keep in mind that although I've created content in all of these categories, I DID NOT EXECUTE THEM ALL AT ONCE. There were seasons when I focused on blogging and challenges and seasons when YouTube videos and online courses were my focus. Some of these things were a one-time deal and weren't ongoing aspects of my business.
The most important yet tedious part about incorporating these content mediums and products is creating a process for the ones you want to offer more than once.  IF YOU'RE GOING TO DO IT MORE THAN ONCE, YOU NEED TO DOCUMENT AND STREAMLINE THE PROCESS. If you don't create a process for it, you'll waste a lot of time doing the same things over and over. This need to save time is why/how you'll start to implement systems into your business.
Just like I have my list of folders, you need to list what you have and clarify the process it takes to execute each one. The effort it takes to create a blog post is not the same as the effort it takes to create a course or build a webinar. Breaking down my content like this ensures I only produce QUALITY content.
Since I want to maintain a high standard of quality, I periodically go through my previous work. It's called auditing your content. I got the idea for content auditing from Regina of byRegina.com and Todd Tresidder on an episode of Smart Passive Income. Just recently, my assistant and I removed posts on my site that didn't meet my criteria for the quality I want to represent. And now that those posts are gone it'll be easier for me to maintain the same quality as I move forward. That's why one of the first things I have my students do in my Master Your Market course is a content audit, so they ensure that they deliver only quality content and products for their audience.
In my organized folders, I have about 100 blog posts, four challenges, two Coaching Packages, one Conference (virtual summit), two Courses, one eBook, one eMail Course, two Master Classes, nine Webinars, and ten YouTube videos.  All of this is just the material that made the cut as far as quality. My goal is to deliver the BEST whether the content is free or not.
Paid Content
Promotional Content
YouTube Video
Webinars
Social (micro content)
Side note: Social media is micro content so you can break that down even further. So you have to decide which social media platforms you'll use. That's for another blog post, though.
Once you decide which content mediums you're going to focus on (DO NOT TRY TO DO ALL OF THEM), you need to identify:
The Streamlined Process
The Batch Process
The Delegation (if applicable)
The Editorial Schedule
(Do this for your social media as well.)
So here's an example of how you'd break all of this down for one promotional platform.
Blog Post
Process batch and delegation indicated in teal

Create Title Mondays – Maya
Write Post Mondays – Maya
Edit Post Mondays – Editor
Create Post Graphics Tuesdays – Designer
Create Content Upgrade PDF Tuesdays – Designer
Create Email Auto Response Wednesdays – Assistant
Format Post Wednesdays – Assistant
Publish Thursdays – Assistant
Schedule on Social Media Thursdays – Social Media Manager

Editorial Schedule – 3x/month (a specific date is optional but not required)

Blog post idea 1 – Publish date 1
Blog post idea 2 – Publish date 2
Blog post idea 3 – Publish date 3
Pro tip: I suggest having an actual excel file or calendar for your editorial calendar.
Pro pro tip:  I began to truly understand the concept of batch processing from Mattie James and Caitlin Bacher. Instead of doing one task daily, take one day to perform all the tasks and then drip the content. It's really how high-level content curators put out so much content without burning out.
Here's a peek at my blog post process with due dates and task assignments. (Grayed out because tasks are completed. Good job, team!)

For content more in-depth than a blog post, I like to create a folder for each step of the process. Courses & Conferences are the most extensive of content mediums, so I'll share a skeleton of what my courses folder looks like:
Courses
Blogademics

Course Description & Outline
Branding & Promo Graphics
Coaching Calls
Content For Launch
Sales Page Content
Course Videos
Workbooks
Testimonials

Master Your Market

Course Description & Outline
Branding & Promo Graphics
Coaching Calls
Content For Launch
Sales Page Content
Course Videos
Workbooks
Testimonials (Video & Written)
In my Master Your Market course, the first module I teach covers processes, strategies, and systems because when you're trying to dominate the online industry, you need to have your sh*t together. There are no ifs, ands or buts about it. Whether you like YouTube over Written Blog Posts or Webinars over Podcasts, you HAVE to have a documented and streamlined process for your long-form and micro content mediums.
That's why I created Smart Content Toolbox. It's a bundle of how I lay out EVERYTHING for all of the content pieces I've created. You'll see how I break down my process, what templates you should create, and how you can delegate these tasks to your [future] team.
Note: You do DO NOT need a team before you rev up your content creation. I made my first five figures from paid content solo, without a team.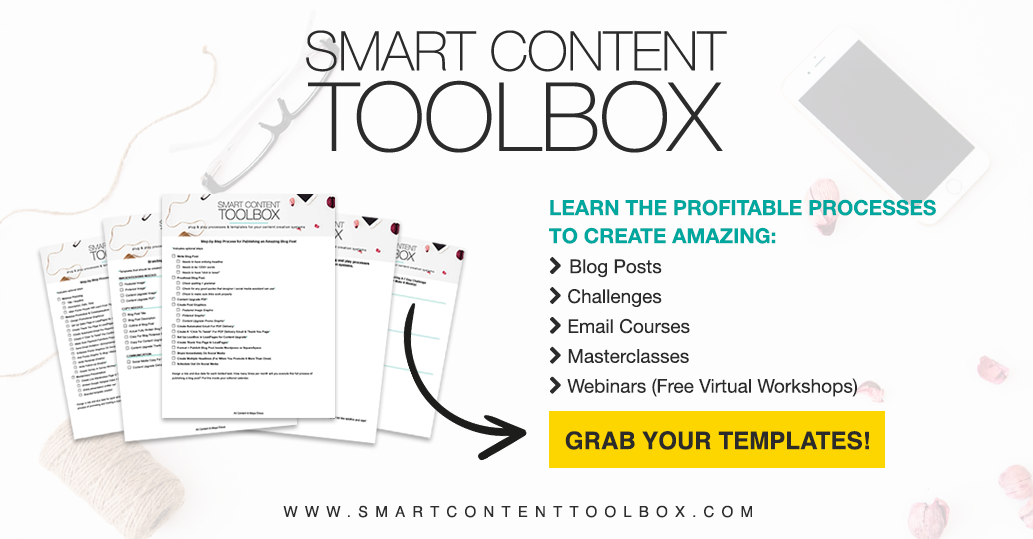 Learn the effective processes I use to create long-form content such as:
Blog Posts
Challenges
Coaching Packages
Virtual Summits / Conferences
Online Courses
eBooks
Email Courses
Masterclasses
Webinars (Free Virtual Workshops)
Youtube Videos
*If you're in my Master Your Market course, I've newly added this to the portal, and it's available to you now!
Grab these easy plug and play processes and templates for your online content creation systems. Limitless ideas are what make creatives good. Structure is what makes creatives great. It's what separates the dreamers from the doers. Get more done consistently with the Smart Content Toolbox.
P.S. If you're wondering what else is in my Dropbox, here's the skeleton:
Archived – past business stuff
Babe – junk my boyfriend saves on my computer
Business – what this post was about
Camera Uploads – self explanatory
Documentary – a documentary I was working on
Education – any eBooks, courses etc I've signed up for (I invest in these things, too. 😉 )
Gifs and Memes – super important to have on hand, lol
Maya SD Video – video from my SD card to clear space on my computer
Personal (Faith, Family, Finances, Fitness, Food, Fun, Health, Photos)
SD Files – self explanatory
Snapchat Archive – self explanatory